2017 field trips in Fremont County, Idaho
* Always check back here just before leaving to join us to check for cancellation. *
* Call (208) 932-0893 with any questions. *
April 7, Friday, 9:00 a.m.- 12:00 p.m.: Henry's Fork Greenway, South Trail, park at Exxon/Subway (St. A, map)
May 4 , Thursday, Idaho Gives Day!, 9:00 a.m.- 12:00 p.m.: Henry's Fork Greenway, South Trail, park at Exxon/Subway (St. A, map)
May 18, Thursday, 9:00 a.m.- 12:00 p.m.: Teton Hwy. & E. 400 N. (Wilford)
May 27, Saturday, 9:00 a.m.- 12:00 p.m.: Sand Creek Wildlife Management Area, look for vehicle withLab's logo (Chester)
June 2, Friday, 9:00 a.m.- 12:00 p.m.: Frostop restaurant on Hwy. 20 & Main Street (Ashton)
June 7, Wednesday, 9:00 a.m.- 12:00 p.m.: Henry's Lake Campground (Island Park)


June 11 - 12, Sun - Mon, Campout at Crater's of the Moon (www.nps.gov/crmo)


June 17, Saturday, 2:00 p.m. - 6:00 p.m.: Idaho Art Lab's yard during Big Art Expo


June 19, Monday, 9:00 a.m.- 12:00 p.m.: Location TBD. Suggestions?
June 25, Sunday, 9:00 a.m.- 12:00 p.m.: Location TBD. Suggestions?
July 7, Friday, 9:00 a.m.- 12:00 p.m.: Location TBD. Suggestions?
July 11, Tuesday, 9:00 a.m.- 12:00 p.m.: Location TBD. Suggestions?
July 23-July 29, Sunday - Saturday : Join us at Driggs Digs Plein Air Festival (Driggs, www.driggspleinair.org)
August 1 , Tuesday, 9:00 a.m.- 12:00 p.m.: Harriman State Park (Island Park)


August 9, Wednesday, 9:00 a.m.- 12:00 p.m.: Location TBD. Suggestions?
August 18, Friday, 9:00 a.m.- 12:00 p.m.: Location TBD. Suggestions?
August 24, Thursday, 9:00 a.m.- 12:00 p.m.: St. Anthony's Summerfest street fair crowd


August 27 - 31, Sunday - Thursday: Join us for the Artist Retreat in Yellowstone

(www.PleinAirInTheParks.org)
*September to be decided.
Field Trips are postponed while Daniel focuses on finishing Phase 2 of the Riverside Ru-Inn mural (mid-November?)
---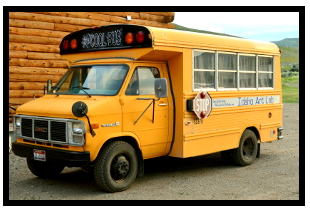 We have a heated bus! Now we can carpool and paint from inside the bus if there's rain, wind or snow. The back of the bus has storage space for all your easels, chairs and umbrellas.
Want to ride the bus? Make sure to call us the day before. We'll tell you what time to be here. No charge, but donations are always appreciated.
Thanks! Bob Bauer, Richard Law, Joe Law and the crew at Sugar Salem School District helped make this happen!