2017 field trips in Fremont County, Idaho being scheduled now!
* Call (208) 932-0893 with any questions
4/7/2017, Friday, 9:00 a.m.- 12:00 p.m.: Henry's Fork Greenway, South Trail, park at Exxon/Subway (St. A, map)

The rest of 2017 being scheduled now as well as Artist Retreats in Yellowstone National Park and Craters of the Moon for plein air painters and photographers.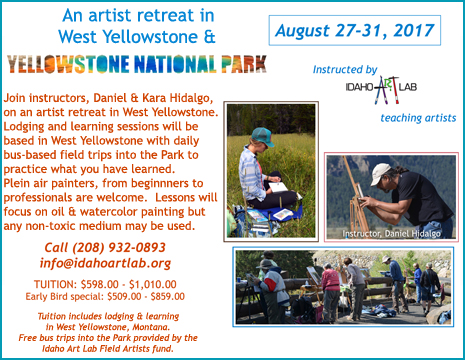 ---
Previous locations: Please suggest new locations you'd like to visit!
St. Anthony / Parker Egin area:
Henry's Fork Greenway, South Trail, park at Exxon/Subway (St. A, map)


Henry's Fork Greenway, North Trail. (St. A, map)


Railroad tracks & grainery on S. Yellowstone Hwy. (St. A, map)


Cottonwood Drive at Railroad Bridge (St. A, map)


St. Anthony Sand Dunes, Red Road Parking, cross road to dunes (St. A)


Sand Dunes at Egin Lake/BLM (St. A)


Clyde Keefer Park (St. A)


Teton View Lavendar Farm on Teton Hwy (Wilford, www.tetonviewlavender.com)


Haunted Mill in Teton (Teton, map)


Drummond grain elevators,

Ashton / Chester area:
Sand Creek Wildlife Management Area/Chester Wetlands


Monkey Rock / Hog Hollow (map)


Fall River pullout on Hwy. 20 (Chester, map)


Base of Ashton Hill, Henry's Fork River

Island Park / West Yellowstone area:
Harriman State Park, Railroad Ranch, Jones Cabin ( map)


Mack's Inn, Henry's Fork of the Snake River


Warm River / Mesa Falls Scenic Byway (ID-47N)


Big Springs / Johnny Sack Cabin (I.P., map)

Special occasion locations:
Aspen Grove Inn at Heise Bridge (Potluck BBQ in the Lodge at 12pm) (Ririe, map)