The not-for-profit Idaho Art Lab makerspace in St. Anthony is having another Big Art Expo!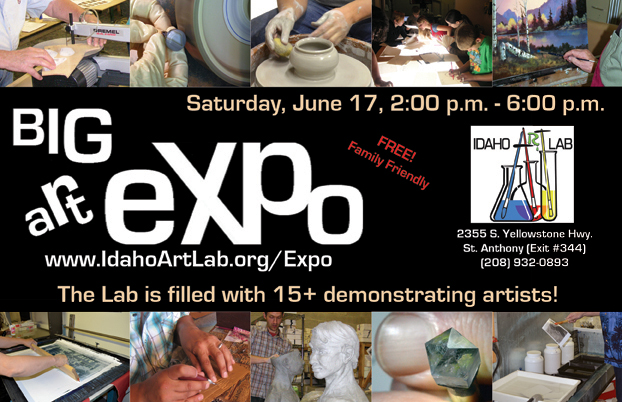 Click for a printable poster. Please help us by posting this in your place of business. Thanks!
Saturday, June 17, 2017, 2:00 p.m. – 6:00 p.m.- FREE
Big Art Expo. This wonderful, family friendly event gives you a chance to tour the Idaho Art Lab's community-use makerspace. Meet artists and makers working in each of our maker labs. If you find yourself inspired, sign up for a workshop or get certified to rent our equipment by the hour ($3/hr+). Watch a potter at work on the pottery wheel, see how gemstones are cut and polished in our Lapidary Lab, learn about scroll saw woodworking, faceting and more!
Last updated: 5/30/2017
Medium:
Artist demonstrating
Artists:
Signups to participate are CLOSED. Please mark your calendars for Sat., October 21, 2 - 6pm for the next Art Expo.
Your tour guides are
Curt Kary, Heather Halversen, Makayla Halversen, Kara Hidalgo
Block Printing:
Jocelyn Haeberle
Cartoon Animation:
Makayla Halversen
Ceramics (slip casting/painting):
Linda C., Connie Bird, Sue Drake
Charcoal, an exercise in design:
A Make & Take with Marilyn Hoff-Hansen
Faceting:
Bill Wilson (Chester Creations)
Lapidary stone polishing & wiring wrapping:
Marcia Standifer (Upstream Innovations), Taylor Davis
Lost Wax Metal (Investment) Casting:
Daniel Hidalgo
Painting:
Desiree Chesebro-Moeller (Lakota Skye Creations), Bea Phelps, Jacob Secrest
Photography Darkroom:
Dustin Adams, Sarah Sharp
Pottery:
Melody Schaffer, Naomi Watts
Silk Screen / serigraph:
Lindsay & Daniel Barney
Scroll Saw Woodworking:
Rick Smith, Taylor Davis
Sculpture:
Daniel Borup, Havan Christensen, Malynda Cooper, Barry Topham
Woodturning:
Cleave Reddick