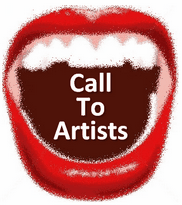 Current Call To Artists
---

The Jury Process
Space permitting, every artist's work will be included. If we must jury …
1. We will exhibit fewer pieces of each artist to enable us to show every artist's work
2. Local artists have preference
3. Presentation of artwork (Is the piece wired, ready to hang? If the piece is sculpture, jewelry or fine craft, is a pedestal or display available? Is the frame, matting and artwork in excellent condition?)
4. Involvement of the artist (If they've exhibited before, did they attend the "Meet The Artists" Reception? Have they volunteered or offered support? We are an artist's gallery.)
Our goal is to exhibit fine artworks while allowing budding artists a chance to exhibit their developing artwork as they discover their true artistic calling. Take advantage of this unique opportunity and submit your art for this show!
We love new artists!
Winter Art Show
Artists are invited to submit up to 5 pieces of artwork (more if small works, fine crafts, custom jewelry, etc.). Space permitting, every artist's work will be included. All mediums are acceptable, including assemblages. Two dimensional artwork must be wired, ready to hang with a frame or wrapped canvas (no side staples). Maximum size (including frame) is 5 ft. high by 6 ft. wide, however, smaller pieces are preferred.
Theme:
No theme. Bring us your best fine art pieces. The Winter Art Show occurs during the Holiday Arts & Crafts Sale. The Gallery will exhibit fine art while the Lab hosts booths of holiday arts & crafts.
To submit artwork: Please read and sign the Exhibition Application and the Liability Waiver/Sales Agreement (download) and bring artwork in during the Drop off dates (below).
Entry Fee: $10.00 per piece or volunteer for ome hour per piece. Contact us if submitting more than 5 piece.
No entry fee for K - 12 student artwork.
Drop off date: Saturday, November 27 - Saturday, December 1
Meet The Artists Opening Reception: Tuesday, December 11, 5pm – 9pm
Show Dates: Tuesday, December 11 - Saturday, December 22
Pickup art date: Saturday, December 22 - Tuesday, January 22
Questions? Please email Kara at info@idahoartlab.org or call (208) 932-0893 [easily remembered as 208-93-208-93]
---
2012 Deadlines:
Jan. 7: The Hodgepodge (No theme)
Feb. 18: Arts In Education (K - 12th grade artwork only)
Mar. 31: Western Art Show (Theme: cowboy, native american, western US landscape, etc.)
May 12: A River Runs Through It (Theme: fishing, rivers, water, etc.)
May 12: Small Works, Big Deal Fundraiser (Donate your small works for the June 21st fundraiser)
June 23: Pioneer Art Show (Theme: historic art. Art parties to take place throughout spring to paint/draw from historic photos we've gathered)
July 21: Dunes & Cartoons (Theme: Sand dunes or desert OR cartoons, illustrations & drawings of ANY subject matter)
Aug. 25: Crash Into Fall (Theme: Demolition Derby, anything automotive OR fall, fall colors or harvest themed)
Sept. 22: Art of the Macabre (Theme: Halloween, orange & black) Runs concurrently with The Hodgepodge
Sept. 22: The Hodgepodge (No theme) Runs concurrently with Art of the Macabre
Nov. 5 - Dec. 8: Gallery available for weekly rental for your fine art showcase
Dec. 11: Holiday Art Show (No theme, fine art exhibit)
Dec. 11: Holiday Arts & Crafts Sale (Holiday themed crafts)

The Idaho Art Lab is provided in part by:
Diamond Donors (We couldn't have done it without you!):



Daniel & Kara Hidalgo (Teton), Desiree Chesbro-Moeller (St. Anthony), DeAnn Fausett (St. Anthony)
---
Platinum Donors (> $1,000):







Jocelyn Haeberle
(St. Anthony)
, Nancy Richman
(Teton),
Yvonne Ferrell
(Boise)
, Steve & Sherry Browning
(Rigby)
---
---
Sponsors ($100 to $500):
Alan & Anne Egger (Pocatello), Michael Faison (Boise), Betsy Popp (Wisconsin), Mr. Ed's Pawn Shop (Blackfoot)
---