Chili Cook Off and Pottery Sale
It's the IDAHO ART LAB's 6 year anniversary and we are having a Chili Cook Off fundraiser to celebrate. Please help support our community's not-for-profit art center & makerspace by attending. You can also help us by;
1) bringing a friend who has never been to the Lab, and
2) sharing this page and the flier on your social media page with the hashtag #ArtLabChiliCookOff.
Friday, March 17
12:00 p.m. - 7:00 p.m.: Pottery Pre-Sale. Drop in Friday to pre-purchase your ticket to the Cook Off and have first dibs on the hand thrown bowl of your choice!
Saturday, March 18
11:45 a.m.: Deadline for chili entries. Bring your own crockpot and serving spoon.
12:00 p.m.: People's Choice Judging(YOU judge)
12:15 p.m. until the chili runs out: Eat Chili! Trophies presented, volunteer recognition and Daniel Hidalgo speaks about the history of the Idaho Art Lab and its mission.
COST:
$10.00/person to take home a hand-thrown ceramic bowl of your choice, plus:
- a 2 oz. serving of each competitor's chili and a People's Choice Judging sheet
- all you can eat bowls of competitor's chili until it runs out
$2.50/person
- a 2 oz. serving of each competitor's chili and a People's Choice Judging sheet
- a single serving of chili in a paper bowl
Your not-for-profit IDAHO ART LAB volunteer potters, Daniel Hidalgo, Debra Smith and Kathy Bitton have created fun, colorful bowls that were glazed by the Lab's volunteers (THANK YOU all!)... now it's time for some chili cook-off trash talking.
The Chili Cook Off will be held at the IDAHO ART LAB east off Hwy. 20 Exit #344 in south St. Anthony at 2355 S. Yellowstone Hwy. (old Browning Furniture Building).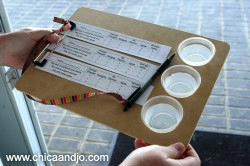 TO COMPETE: No cost to enter
Bring a warm crockpot of chili in by 11:45 a.m.
To judge: Taste testing by the public will start at 12:00 p.m. The public will sample each chili in 2 oz. bowls and pick their favorite with 3 categories of Best Vegetarian, Best Meat and Spiciest. During this time anyone can fill up on the house chili or wait until abuot 12:15 p.m. when the voting ends and you can fill up on whichever chili you would like (until it's gone).
To just stuff your face: By about 12:15 p.m. anyone can enjoy the competition chili! Award presentations will be around 12:30 p.m.
Who can compete: Any person, company or club is encouraged to put their money where their mouth is! Pull out your secret recipe, dream up a catchy name for your chili or your team and come show 'em how it's done. Don't forget to gather your chili eatin' fans ... the most public votes wins.
The Rules: Chili must be prepared by the entrant, from their own recipe, from scratch. Bring a 6 quart or larger crockpot full of your heated chili (with a serving spoon) by 11:45 a.m.. You may provide toppings. We provide the extension cords, table space, 2 oz. taste testing cups and spoons.
Prizes: The trophy is being made now. We are looking for just the perfect "vintage" trophy base to go with Daniel's hand thrown, chili flamin' trophy topper.